Learning to knit and choosing the right knitting needles is daunting. This knitting needle guide is written for beginners. Information and tips for becoming a knitter.
After you've read this article, you'll choose cool knitting needles like a pro 🙂
In a hurry? Here's my summary of a couple of the best needles.
My Quick Recommendations
Get ready to start knitting with these many different knitting needle options!
Table Of Contents
The Best Knitting Needles For Beginners
Here are the best needles for a starting point in your knitting journey!
Hope you find my buying guide helpful.
Addi Linos Circular Needles
Designed to make the dive into using circular needles much easier, these are the perfect choice for your first set of circulars. With the quality from an excellent company like Addi, these are guaranteed to last for years.
They're popular with advanced and beginner knitters, so you should find them in your local yarn shop.
Features
Made by the family-owned Addi in Germany
Smooth surface but with plenty of grip
These things are simple and easy to use
Knitting Needle Material – Brass & Nickel, and plastic cords
Pros
This style is for beginners, children and those with smaller hands
These pairs have lifetime warranty
Great if you're learning how to speed knit
Suitable for many weight yarns
Shorter, blunter tips
Two different colored coatings for easy learning; one tip is brass, the other is Turbo (nickel plated)
A pair of these is perfect for speed knitters
Cons
This needle type might be small for someone with larger hands
Clover Takumi Straight Needles
These excellent clover bamboo knitting needles are made in Japan from ethical, sustainable materials. The quality materials make all the difference!
Have fun and be comfortable while practicing your new hobby.
Features
Handcrafted in Japan from local Takumi Bamboo
Knitting Needle Size – Needles are 9″ long
Excellent quality needles
Pros
Perfect length to handle, but not too much to be cumbersome
Fair return policy for these bamboo needles
Use with any knitting yarn and for all knitting projects
This brand has many sizes available
Resonable shipping to the U.S.
Smooth bamboo material
These knitting tools are great for all stitch patterns
Cons
Some beginners may find these needles too small
Comparable Products To Consider
Looking for other options?
What Needles Are Best For Kids?
Length-wise, a needle 7-10 inches long is suitable.
Ensure the needles kids use are rounded at the points, and the two needles are easy to control and work with.
An option is Knit Picks Sunstruck needles. They're made from laminated birch and have a pointy but not too pointy end. They're lightweight and have an easy-to-handle shape. They'll be excited to learn to knit!
Want other colors? KnitPicks has plenty of options for different knitting needles. Their friendly customer service team will help you. Bound to make shopping and your purchase easier!
What Makes A Good Knitting Needle?
The qualities you want to look for in a beginner's needle are:
Good grip
A smooth surface to slide stitches off the needle, but not enough to lose your stitches accidentally
Larger needle size
Needles made of bamboo or wood (avoid aluminum needles for now)
However, for child knitting needles, something made of plastic is best.
How Do You Choose Knitting Needles?
Here are some factors to consider.
Picking the right beginner knitting needles is tricky. Hoping not to spend lots of money on materials? Most knitting materials aren't cheap!
Buying low-cost needles is it affects your knitting experience. You're better off using quality knitting materials. Of course, low-cost quality ones are available.
Avoid cheap ones at the dollar store. The problem with these is they don't last long. You don't want something to break in your hand after a few uses!
Looking for a complete set – yarn, needles, project, so you don't have to decide? Get a knitting starter kit.
In search of the best online yarn stores? Look at my guide.
The Best Beginner Needle Sizes
The needle size you use relies on what yarn weight your particular garment needs. Unsure? The yarn label recommends a needle size.
(Important Note: Most experts, including knitting teacher Marly Bird, recommend starting with worsted weight yarn. Because, let's face it, no one wants their first try of anything to be frustrating!)
Do many projects? Buy different sizes of needles.
Going to knitting stores to buy more needles whenever you start a new project is annoying. (Except it's an excellent opportunity to buy more yarn!). Don't worry; there is a solution! Interchangeable needles.
Knitting needles are labeled with sizes.
Smaller knitting needle sizes – thinner yarn
Bigger needle – thicker yarn weights
Always check your gauge with a swatch before starting a new creation.
Is It Easier To Knit With Big Or Small Needles?
Bigger size needles are best for beginners because they are easier to handle. Knitting with larger needles and yarn makes larger stitches. Your project knits up much faster than if you used small needles.
It's best not to use small needles because they are much harder to knit with.
What's The Best Needle Size For Beginners?
A needle US size 8, 10, or 13 is a good idea to start with.
Go for US Sizes 6 – 8 if you're looking for a smaller needle diameter.
Size 6 = 4mm
Size 7 = 4.5mm
Size 8 = 5mm
Start with 9-10″ (22.86-25.4cm) long needles. They're the easiest to handle.
Needle Size Labeling Systems
There are four ways to classify knitting needles' sizes.
Be careful! Metric needle size 2mm and a US needle size 2 aren't the same.
A US size 2 is a metric size 2.75mm.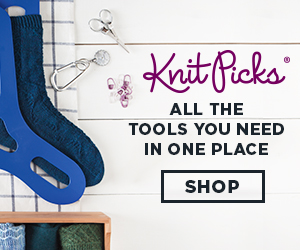 Straight, DPNs, Circulars, Interchangeables
Here is a rundown of the types of knitting needles.
Knitting needle types include straights (single point needles), circular knitting needles, DPNs (double pointed needles), and interchangeable circular needles. Which ones are best for beginners? It's up to you.
There's no wrong type of needle. However, knitters use them for different reasons. All these sized needles come in different styles.
For beginners, straight needles are the most simple. Knitting with circular needles and DPNs is more complicated but manageable.
Circular Needles
Use circulars for anything! Knit in the round, make socks with a magic loop, and more. Despite the name, you can knit flat with circular needles.
Another brilliant quality of circular knitting needles is their long cords hold lots of stitches. They have varying cable lengths for big and small projects. Look for ones with super smooth cables. No one wants their yarns catching!
Straight Needles
Straight Needles are the easiest. Make everything flat with these, like dishcloths and scarves.
DPNs
Make fingerless gloves, baby booties, hats, and more with double-pointed needles. They're great for knitting socks.
Interchangeable Knitting Needles
These are great for crafting! They're a great combination of convenience and availability.
The qualities of interchangeable needles are:
They have a cord like circular needles
Take off the needle part and swap them with different size needles
Also swap the cords to change the length
Buy these in sets
Interchangeable needles are sets or individual pieces. Most connect with a tiny screw-on joining piece. Some use other mechanisms.
Having a needle set is handy because you don't have to worry about having the right needles for a project. Some popular ones are Knitters Pride Dreamz.
However, they're on the expensive side of things. My advice is to wait until you know what number of sizes you use the most. Then you'll know what to get.
The Best Needle Materials
Knitting needle materials include:
Bamboo
Wood
Metal (aluminum, brass, nickel)
Plastic
Some needles are made of wood or bamboo. These are an excellent choice for beginners. Wooden needles are made of wood like rosewood.
Metal needles are usually on the slippery side and hard for beginners to use. But it's up to you. Experiment with different materials until you find the one you love best.
Bamboo/Wooden Needles
The stitches on bamboo or wooden needles grip on the needle and won't slide off quickly. Good for beginners.
Read the reviews before purchasing. No one wants splinters in their skin!
Experiment with other materials if bamboo or wooden needles don't suit you.
Metal Needles
Click-clack. The sound of knitting with metal needles.
You may think the best needles for beginners are the preferred needles used by knitting masters. These include needles like metal speed knitting needles.
As you may have imagined, speed knitting needles have a smooth polished coating, making it easier to slide stitches off the needle faster.
These needles are easy to use and fast, making them an excellent choice for experts, not beginners. A beginner gets irritated by their stitches sliding off the smooth points.
Plastic Needles
Slipping stitches off these are easy. Plastic needles are cheaper and lightweight.
Q&A
What Does A Beginner Knitter Need?
Here is a list of what beginner knitters need to buy.
Needles
Yarn
Tapestry needle
Crochet hook
Scissors
(You probably borrow some, or a lot of these from a crafty friend, and do an activity together!)
Why Do I Need A Tapestry Needle?
You use a tapestry needle for:
Weaving in the ends after you finish a knitting project
Putting together multiple individual pieces of garment
You could also use yarn and darning needles.
These needles have large eyes, making it much easier to poke the yarn through. Unlike sewing needles, these needles have unsharpened tops. It avoids splitting the yarn. Find them at most craft stores.
There are two kinds – a straight tip and a bent tip. Get a straight one.
Why Do I Need A Crochet Hook For Knitting?
Use crochet hooks in knitting for:
Picking up dropped stitches: for hooking them back on the needle
Picking up stitches along an edge
Casting on/off, casting off using a crochet hook in knitting is faster.
What Is The Easiest Thing To Knit For Beginners?
This is a common question! The easiest projects for beginners include:
Bulky scarves
Infinity scarves
Dishcloths
Afghans
Bulky scarves, infinity scarves, and dishcloths are great for beginners. You use chunky yarn for bulky scarves. Easy to see the stitches.
Knitting a dishcloth is also simple. You knit a square, and the most straightforward pattern is garter stitch.
You may think knitting an afghan is difficult, there are loads of blanket patterns with the knit stitch! Knitting an afghan in garter stitch improves your speed.
You'll feel more comfortable with the knit stitch after you finish.
What Is The Best Size Knitting Needles For A Scarf?
Doing a bulky scarf with super bulky weight yarn (size 6)? Use size US 13. Use a needle size anywhere between 11-17 for super bulky weight yarn.
If you're using:
Medium-sized yarn (size 4), use US size 7 – 9 needles.
Bulky yarn (size 5), use US size 9 – 11
Jumbo weight yarn, use US size 17+
Now you have the knowledge for selecting the best beginner knitting needles. Say goodbye to the problems of deciding what to use!
Once you've decided on your needles, yarn, and embroidery needle, you're ready to knit. Happy knitting, and good luck!
Have any questions or comments on this content? Leave your thoughts on the blog post below using your email address. (I don't publish it!)
Pin Now to Save for Later On Pinterest